On the Ukrainian refugee crisis and Munich's help to soften the fall
Russian aggression in Ukraine has displaced over 2.5 million people who have sought refuge in European Union countries. The number of refugees could rise up to 5 million or higher with the intensification of the conflict.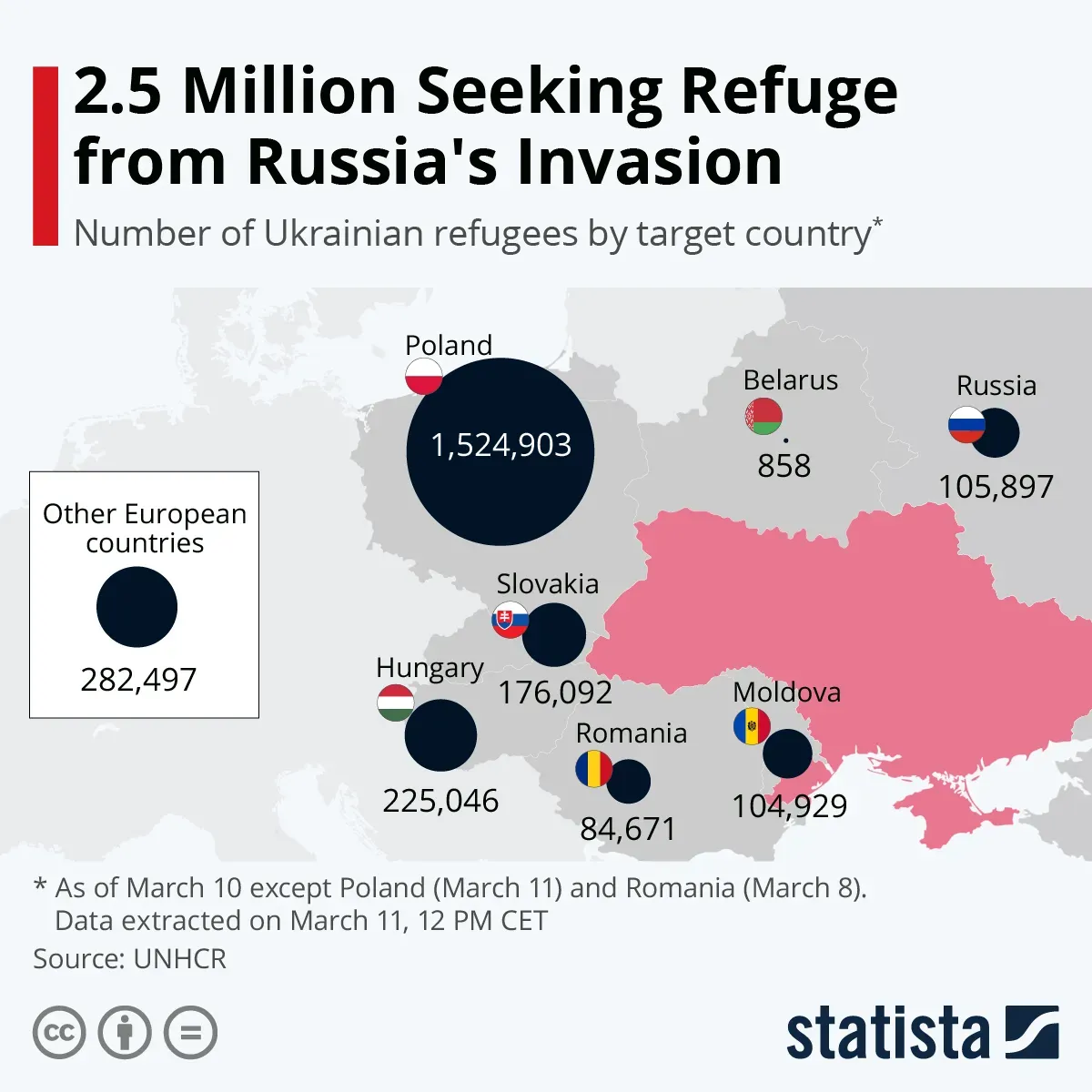 Until now, Putin's so-called "military operation" to "denazify" Ukraine displaced over 2.5 million people. Ukrainians have left the country to seek shelter from Russian aggression—either permanently or temporarily. Most refugees have reached Ukrainens western neighbours via foot, bus, car or train. Very few travelled northeastward to Belarus and Russia.
The European Union decided that permanent residents in Ukrain who left the country to escape the war are entitled to temporary protection with more straightforward board controls. Refugees from Ukraine can take advantage of Europe's train connection for free. The U.N. estimates the number of refugees could drive up to 5 million, but with Russia's latest escalation of shelling more cities, the number could be even higher.
The existence is under threat for many, and we need to exceed ourselves to soften the fall for those affected. The first refugees arrived in Munich, Germany, last Thursday—every day, 1,000 to 1,500 new refugees are arriving. Munich welcomed 2,500 refugees just during this weekend. To cope with the situation, the state of Bavaria and Munich extended the catastrophe alert, which was still active due to measures against the Coronavirus.
Munich established refugees shelter in sports halls of vocational schools, in hotels, in vacant office spaces and exhibition halls. Every place provides refuge for 120 to 300 people. More shelters will be required in the coming days.
"We are trying to create a buffer in accommodation, 1000 new places every day," said Munich city mayor Dieter Reiter[1]. The harsh reality is nobody knows how many will eventually arrive.
The city made an urgent appeal for donations[2]. It is currently impossible for the town to procure all necessary items immediately despite all efforts. These include sheets, blankets, sleeping bags, pillows, towels, hygiene articles such as sanitary towels, tampons, toothbrushes, toothpaste, shower gel/shampoo/soap, baby nappies, bottles, pacifiers and many more things.
My family and I dropped off some of the products mentioned above. We saw that volunteers from fire departments and the technical relief units from the closer surroundings of Munich established a new shelter in the Olympiastadion—building space for additional 250 refugees.
Yesterday, we brought donations to a refugee shelter in a vocational school just across from my office. Toys for the kids, clothes for women and bedsheets. This shelter was established three days ago. Shortly after establishment, a bus with women and their babies arrived. The only luggage they had was a small carry-on suitcase or a hand carrying bag. This is a familiar picture: men fight, women bring the children and the senior citizens in safety.
The elementary school of our youngest daughter, with private initiatives, started to collect donations for refugees in Ukraine. Last Thursday, we donated food. It was hopeful to see how engaged the kids were to sort the goods and how involved the entire school family is. In the first week, the school packaged 27 moving boxes of donations. The goods are transported by the end of the week to the Ukrainian-Polish border. The donations are loaded onto trucks, as foreign transporters are no longer allowed in the country anymore. The final stop for the food will be a school whose canteen now serves as a bunker.
Please be kind to each other. I am afraid that it will get uglier until it gets nicer.
---